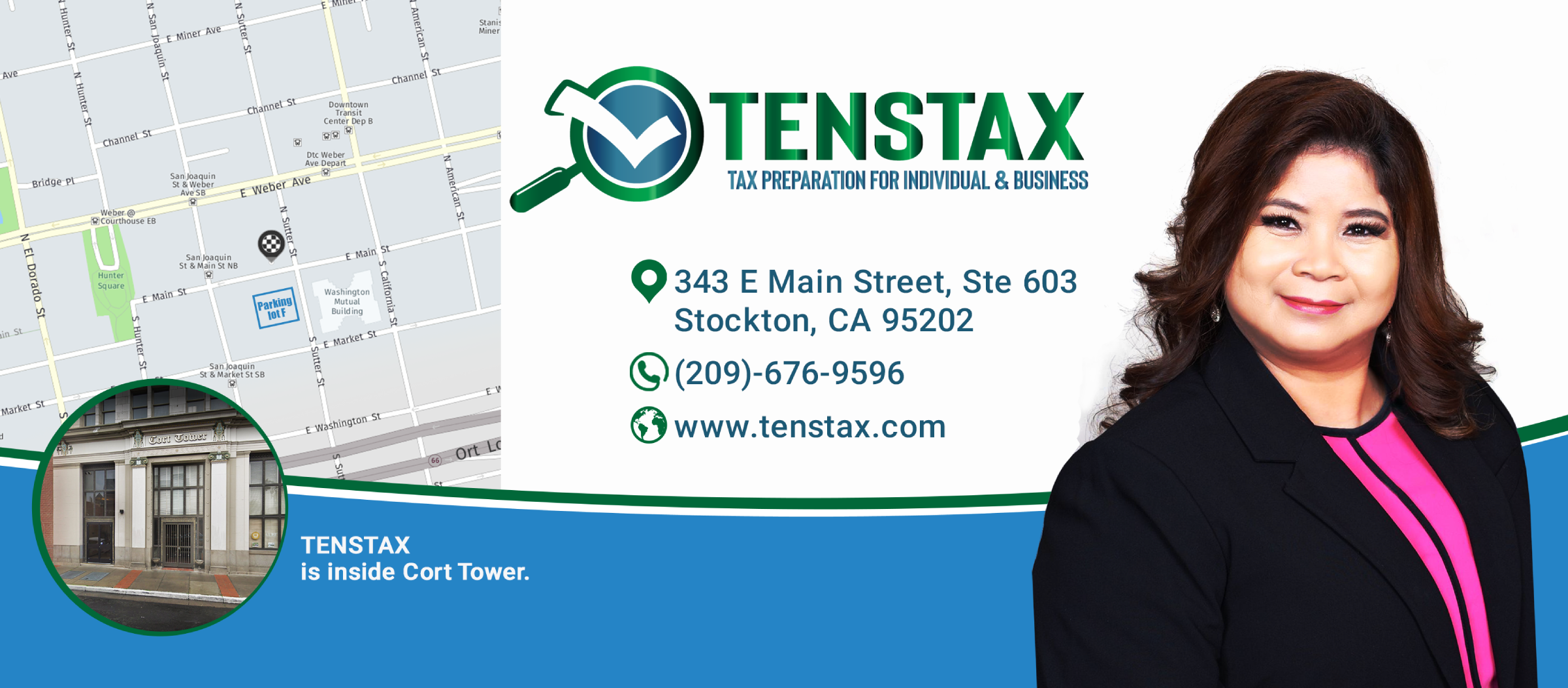 A Wide Range of Tax Services
We represent you before the IRS with all collection matters such as Offers in Compromise, Currently Not Collectible, Installment Agreement, Audit Representation, Nonfilers, Innocent Spouse Relief.
We prepare income tax for: 
Individual, Small Business, Investment, Self Employed, Real Estate, Tax Planning, Retirement, ITIN, Clergy, Partnership, S Corporation, and C Corporation.
SOCHEATA TEN, EA
ENROLLED AGENT
About Socheata Ten EA, LLC
Tenstax is a tax preparation service company that was founded by Socheata Ten in early 2019. The company is located in Stockton, California. Socheata Ten is an Enrolled Agent that has years of tax preparation experience for a tax corporation in Stockton as a Senior Tax Analyst. She successfully completed hundreds of income tax returns including simple individual to complex business entities. Her Enrolled Agent credential gives her the highest privilege to representing taxpayers before the Internal Revenue Service (IRS).
Find Out MORE…
Like attorneys and certified public accountants (CPAs), an Enrolled Agent has unlimited practice rights. Socheata is unrestricted as to which taxpayers she can represent, what types of tax matters she can handle, and which IRS offices she can represent clients before.
Socheata is authorized to advise, represent, and prepare tax returns for individuals, partnerships, corporations, estates, trusts, and entities with tax-reporting requirements.
To schedule an appointment with Socheata, you may schedule online, email, or call her at: Phone: 209-676-9596, Email: [email protected].
PROFESSIONAL SERVICE
Socheata Ten EA, LLC can offer full range of tax services, while giving you the individual attention that you need.
YEARS OF EXPERIENCE
Socheata Ten EA, LLC has volumes of experience with tax preparation services. We guarantee that your business is in good hands at all times.
SERVING YOUR BUSINESS
Socheata Ten EA, LLC provides support in all areas of business consulting related to tax matters. Let our team guide you with a tax planning strategy that leads to business growth and success.
WHAT OUR CLIENTS ARE SAYING
"She is very knowledgeable and professional, she has done my two corporations company and personal tax in just a day. She is very detail oriented to my questions about my taxes. Quick response, due to COVID-19 pandemic, we don't need to go to the office, we work through portal and very convenient. I recommend TENSTAX to all that need to seek tax consultation from personal to corporation. You will not disappointed."
"My name is Chanty Soeurng the Owner of Delta HVAC Stockton CA, I got my estimated taxes done by Socheata Ten on August 23th 2019. she is very professional, very kind and very helpful. thank you very much for your help and all your hard work to get my taxes done."
"Quick response! Very professional. Due to COVID-19 she had another method to get my tax done. Very professional E-docu app which is convenient. Made the steps very simple and easy for me."
"Thanks for doing my taxes. She did a awesome job!! WoW $$ She know what she is doing. Thanks again.."
"Tenstax- Socheat Ten, E.A. LLC is a great place for filing your income tax. she is helpful and friendly. She likes to help Khmer people and all. She explains more detail if you have a question about your IRS or your income Tax return. In the whole, you come to the right place."
"It was my first time going there and i loved it. She goes through everything make sure theres no mistake. I appreciate her. She does very well"
"Very helpful, definitely recommend. Fast service and very responsive. Had a flexible schedule and made sure all my questions were answered"
"Thank you Socheata Ten EA #tenstax is how you say her name. She a VERY professional tax professional. I like saying her name. Its an affirmation yes TEN STAX. Need your taxes done? Checkout Tenstax"
HAVE A QUESTION? WE'RE HERE TO HELP
343 E Main St, Suite 603 Stockton, CA 95202